COMPANY OVERVIEW
Gadusa security is a technology focused security company with a global approach. We are a knowledge leader in end-to-end security services. We deliver the most effective security solutions by offering customized services such as Corporate Guards & Security Services, Cyber Security and Network Security Solutions, Supply, Installation & Maintenance of Security Equipment, Cameras, Surveillance & Intrusion Detection, CCTV, Alarm and Protection Solutions and Risk Analysis & Hazards Identification.

We listen carefully to our clients and apply our expertise to offer security solutions that meet specialized training and specific service needs. Gadusa Security services are customizable and can be combined to meet the requirements of any individual, organization or government agency.

Gadusa is committed to sharing best practices through cutting-edge training, complex program management, and security support.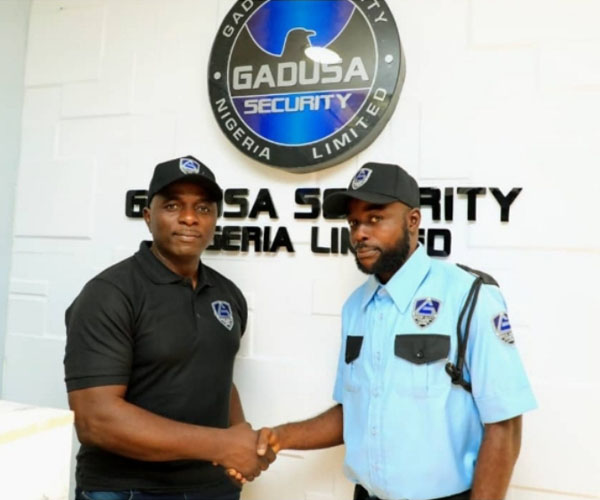 # OUR MISSION STATEMENT
Creating and enabling private security solutions that guarantee peace of mind for our clients.
GUIDING PRINCIPLES
Loyalty and Customer – Once we accept you as our customer, you have our unwavering loyalty.
Professionalism - In all our engagements we maintain the highest professional standards.
Integrity - Integrity is our watchword, we will not betray Trust. We are always discreet.
Honor – We uphold all our values to customers and employees with honour.
Duty - We will always fulfil our obligations to our customers and our teams, in our missions,  tasks and responsibilities. We do not take shortcuts.
Reliability - We will always go out of our way so our customers can count on us.
Personal Courage – We have what it takes to remain courageous at all times.
Peace of Mind – We take all customers security concerns off the table.
Employee & Teamwork – We know our customers will be taken care of, if we focus on our employees and work together as a team.
Innovation - We remain innovative to the needs of our customers, and will leverage technology to customize security solutions.
Pride and Difference - We will be a different kind of company that employees can be proud of, we will add value to our clients and the Nation.